I didn't think I'd PR this race. My PR for a half is was 1:49:14, and that was on a flat and fast course. Baltimore, while not deadly, has its share of hills. Still, I looked at this race as good prep for Richmond.
I woke up at 7:30 a.m. to eat my pre-race breakfast (of oatmeal, honey, almonds, and peanut butter), get dressed and then walked with my husband to the race start (the race start was about 2.5 mi from our house). The half didn't start until 9:45, so we saw some of the leaders, which is always cool. I met up with my friend Sarah and we watched her mom finish the 5K. Then, to the starting line! The weather was low 60s and sunny at the start.
The course:


I took off really fast (for me ) … my first mile was a 7:56. It was really neat to race through the city where I do all of my runs — in fact, the first hill was I hill I run often, so I was prepared. The next few miles were uneventful (although I did get some gummy sharks at mile 3, which were fantastic). Mile 7 went around Lake Montebello, which was under construction whenI ran the Baltimore Marathon a couple years ago — the city did a great job re-doing the area. Mile 8 … I started feeling kind of beat up. I hadn't had anything for fuel, so I had a chocolate GU, and that really helped — I'm not sure if helped psychologically or physically, but my guess is probably a little of both. When I hit mile 10 I yelled "JUST A 5K LEFT!" The spectators were really into it in the last couple miles, which was really cool. The finish goes through Camden Yards (according to the race booklet, it's "an inspiring finish through the stadium" ), so I REALLY picked it up when we turned into the stadium. The last stretch felt so much longer than the 1/3 of mile it was, but I gave it my all.

Crossed the finish line, according to my Garmin, at 1:46:56 – an average pace of 8:10! (and PRing by about two and a half minutes!)
Splits:
Mile 1: 7:56
Mile 2: 8:12
Mile 3 7:55
Mile 4: 8:07
Mile 5: 8:03
Mile 6: 8:14
Mile 7: 8:17
Mile 8: 8:17
Mile 9: 8:19
Mile 10: 8:09
Mile 11: 7:50
Mile 12: 8:21
Mile 13: 7:41


Overall place: 606 out of 5049
Sex place: 170 out of 2865
Division place: 70 out of 712
Indian tapas for lunch (yum!) and now, here I am.
Oh, and Catone likes my medal so much, she is thinking of running a marathon.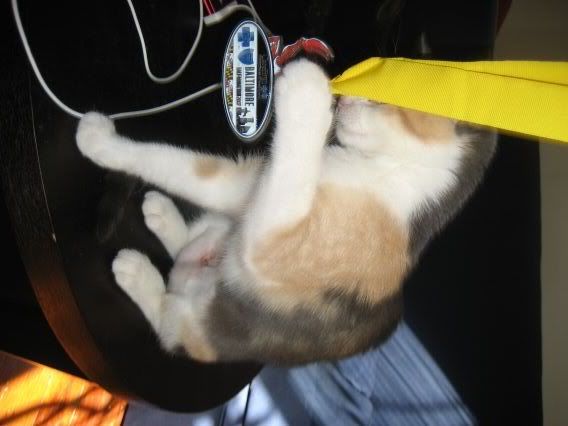 Wait, no, she decided a nap would be a better idea.