rides outside:
at a

wedding

, saturday night, and I got a text that a friend of mine who does adventure races [A

Rs

= triathlon's weird cousin] bought a road bike. a beautiful road bike:

[a road bike I would steal if I wasn't 5 feet tall.]

he was anxious to ride her and I was anxious to ride outside [no more three hour trainer rides. The Wire or not, that was a long time to sit inside]. I put down the wine, started drinking water, and went to bed [relatively] early.

we met at a park in howard co. at 8:45 [I got lost. I know you all are shocked] and got on the road around 9 .. after taking these goofy pictures: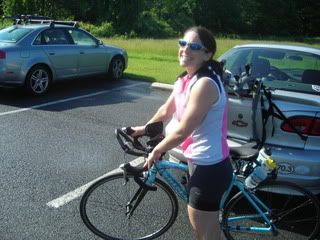 [me and bluebird.]







[it's hard to take pictures of tall people.]

the weather was absolutely beautiful - mid 70s and sunny. [I woke up to rain and was happy to see that it cleared up so beautifully]. the ride was beautiful too -- rolling, I'd say, with some flat stretches and some fast decents (got up to 40 mph on one!) and a few uphills. it's weird to me that there is so much farmland in an area I think of as totally suburban. we passed quite a few farms and saw horses and cows. moooooo.
oh, and I found some houses I know J would absolutely love, but gov't attorney or not, sweetie, I think 2+ million is out of our price range (for now ;)).

I took two bottles of Infinit and two bottles of water. I need to practice drinking more of the Infinit and getting down a full bottle per hour. Not such a big deal for shorter rides, but I need to get my stomach used to the calories for RI/ Diamondman and esp. IMCOZ.




the ride: 35.20 miles in 2h 11m 51s // 16.02 Mi/hr.
then J and I had a graduation party, and I needed a potty break for a 35 min drive [too much water.] --

riding with me is like riding with a toddler

-- and then I inhaled as much food as I could get my grubby little hands on.

gets bathed:
apparently there are things that

everyone

knows about cycling that I do not know.
one is pumping your tires before each ride.

another is cleaning your bike.
I ended up taking a day off [long story] and figured I should clean Bluebird since I haven't cleaned her, um, ever, and AR friend said that I should take better care of it.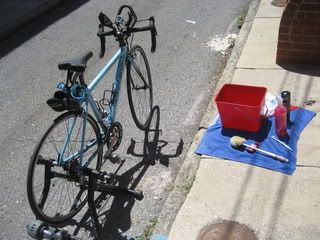 [getting ready to clean her]

[scrubbing the chain with degreaser]