North East Triathlon - Olympic Distance.
1500M SWIM/ 23.5MI BIKE/ 10K RUN

the swim> 00:30:49 1500 meters 02m 03s / 100meters
t1> 02:47
the bike> 01:22:58 23.200001 miles 16.78 mile/hr
t2> 01:39
the run> 00:54:24 06.21 miles 08m 46s min/mile
finish time> 2:52:35

saturday
swam 1800M in the morning then cleaned my bike. she was drrty.

Steve, Christy (Maryland BTers) and I met at DuClaw for lunch pre packet pickup. After a delicious salad (you really cannot go wrong with candied pecans) we drove to Cecil Co. to pick up our packets. Got our stuff, checked out the water (WARM), and headed back to Baltimore.

packed the tri bag, relaxed, and had dinner with some good friends. asleep by 10:30.

race day !

woke up at 4:45 and had my usual pre race breakfast of oatmeal, honey, almonds, and peanut butter. woke up james. grabbed my Infinit, water, tri bag, and bike, and headed to North East. no traffic, although not surprising for 5:20 am on a sunday morning.

we got to the race site (after J got a doughnut and coffee at Dunkin' Donuts. mmmmm doughnuts), parked, and then headed to T1 to get body marked and get set up.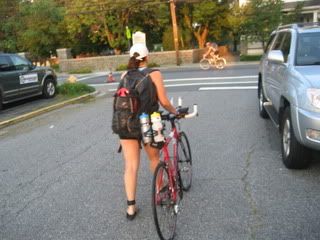 Found the Maryland BTers - Christy, Traci, Steve, and CJ - and hung out for a while. I was in wave 8 - of 8 waves - and that was after all the sprint athletes went out AND we took a 15 minute break. I was chomping at the bit to get in the water!
doing the pee pee dance in line for the port o pots.


from left: christy, me, cj, steve, traci.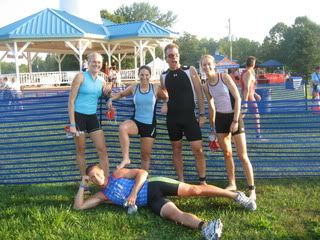 goofy BT kids.

the swim:
1500 meters
00:30:49
02m 03s / 100meters
finally! waiting in the water for our wave to get the GO !
the water was WARM. not okay-I-can-deal-without-a-wetsuit warm, but holy-crap-I-take-showers-colder-than-this ! the course was set up like this:
and there were a ton of buoys so sighting wasn't too much of a problem. I felt like I was going at a decent clip and I passed a few people in the wave(s) before me.
Got out of the water and checked my watch - totally happy with my swim and onto t1/ the bike.
t1:
02:47
this really isn't as bad as it looks ... there was a long run from the water to t1. once I got to my bike, I put on my socks, shoes, and helmet and was off !

the bike:
23.200001 miles
01:22:58
16.78 mile/hr

this is where I expected to see most of my gains. I've been training hard on the bike - riding the hills of ellicott city, long runs on the shore, strength workouts on the bike trainer - and I was ready for a solid bike split.

the course is like a mini Columbia - it's what I'd call a true rolling course. none of the hills were too awful, but I did get passed by a girl in pedal cages. go me. However, I DID beat her on the bike. I'll take these as victories: stayed in aero 99% of the time, easily got Infinit bottle and water bottle out of the bottle cages, didn't flat, stayed in aero downhill! pedaled like hell on the downhill (and passed a few people who weren't pedaling... it really does make a difference), took corners in aero.

oh, early in the course: look, wild turkeys!
oh wait, those are VULTURES.
and they are eating a DEAD DEER.
barf.
(oh, and I would see that delightful scene again on the run. TWICE).
and an average mph of 16.78? I will SO take it.

t2:
01:39
not bad ! ran in from the bike, pulled off my cleats, pulled on my running shoes, grabbed my hat and number belt to put on as I ran out.
the run:
06.21 miles
00:54:24
08m 46s min/mile
it was hot. it was humid. it was on pavement. and it was not shaded. the run was an out and back along the road and the road was open to traffic... which kind of sucked but when a car went past I got a little breeze.

I had no idea what my pace was since I didn't have Garmie, but I tried to settle into a comfortable fast pace. Mentally, mile 2 was the hardest. I wasn't halfway and I was getting tired. The aid stations were great - water, heed, power aid gels (I had a banana one. it was - surprisingly - delicious!), and the best: ice cold wash cloths. tucked one in my tri top straps on the back of my neck.

The hill leading up to the turn around was pretty steep, but I kept thinking KMF (keep moving forward) and I pushed through. Once I got to the turn around I felt great. 3.1 miles. I knew I could run 3.1 miles and I knew I could do it in a decent time.

My goal was to break 3 hours and I knew when I started the run I would more than likely do it, but I grew more confident at each mile.

the finish!
I was passing a lot of people, which happens when you (a) are slow on the bike, and (b) have a running background. it's also a huge morale booster.

I hit mile 6 and was so happy to see the finish chute.

coming up on the finish:


badass finisher's photo

I hit my watch after the finish line (I'm really trying to avoid the looking-at-the-watch finisher's photo).

met up with the BT kids, got food (hamburger, potato salad, cookies, and a pepsi), and headed back to baltimore.

James got McDonalds:


and I got Rita's:

I am really happy with this race. improved speed on the bike, faster transitions, and a fourteen minute PR.

and compared to last year's north east tri?

2008 swim> 37:06
2009 swim> 30:49

2008 t1> 3:52
2009 t1> 2:47

2008 bike> 1:28:34
2009 bike> 1:22:58

2008 t2> 3:38
2009 t2:> 1:39

2008 run> 53:14
2009 run> 54:24

2008 time> 3:06:24
2009 time> 2:52:35