totals



totals 08/03 through 08/09 [IM training week 3]

in the water: 5450.00 M in 1h 50m 42s [3 workouts]
on bella: 46.00 Mi in 3h 32m 50s [3 workouts]
in my asics: 20.65 Mi in3h 13m 24s [4 workouts]

total training time: 08h 36m 56s



photos



from last sunday's ride on the eastern shore:


it was raining. hard.

then deb flatted.
[not pictured: the c02 cart refusing to come off of the tube and the tube exploding]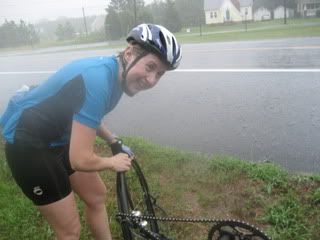 yay we made it to Tilghman's Island!


pretty


biker chick.

69 [hehe] point five miles !