I am 7 days, 10 hours, and 21 minutes away from joining a couple thousand other athletes in the Gulf of Mexico to start the 2.4 mi swim.


wow.

> Race Plan is complete. I've included the course, loops (if applicable), nutrition, appx. time(s), and mental strategy for each leg and transition.
> Emailed friends + family the tracker information.
> I AM TOTALLY PACKED.

Yes, folks, I am almost completely packed! I thought it was take much longer, but I've been working on my "to pack" list for a few weeks and have been putting aside clothes, food, waterbottles, etc. for a while. I still need to pack some last minute stuff like meds and make up, but I'm approximately 98.45% packed !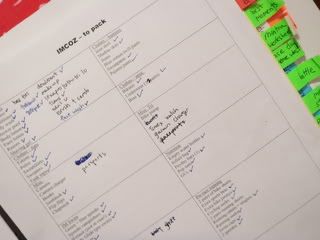 the master to-pack list ^


bike bag -- note all the checklists, bubbles, etc. I am nothing if not thorough ! ^


water bottles, pre marked by the hour, plus post race recoverite

^


bed full of stuff ^


poe-the-cat did not make it into the suitcase ^


all the race day stuff is in ziploc bags, ready to go into the bike gear, run gear, or respective special needs bag ^